Traduccion automatica al idioma espanol por Google-Translations, inserte o copie y pegue URL o direccion de esta pagina en el cuadro de:

Modern electronic technology (O.C.R. Optical Character Recognition) a sophisticated computer program confirms Prof. Perales' statements about the existence of miniaturized signatures in Goya's works.
Comparative chart of graphisms revealed using the "Roure Method" on various works by Goya
| | |
| --- | --- |
| Macro photography analisys process | Detailed examination with color filters in "grid" area. |
"Roure informed a group of teachers from the Escuela Universitaria Politécnica de Mataró, ascribed to the Universitat Politècnica de Catalunya, about the existence of graphisms in Goya's work. Since then they have been working on the creation of an OCR to decipher the orthographic graphisms and be used as a support for the authentication of Goya's paintings." (cf. Minutes of the URSI'96 Conference, pages 209 to 212.
Professor Antonio Perales Martinez
(Curriculum Vitae)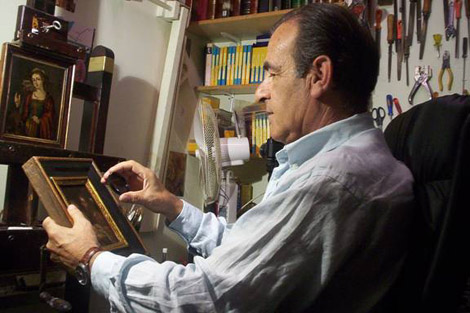 PERSONAL DATA
Name: Antonio
Family Names: Perales Martinez
Date of Birth: May the 13th. 1947
Place of Birth: City of Madrid
Country of Birth: Spain
Profession
Master Technician in Conservation and Restoration of works of arts specialized in authentification, expertise and restorations of the works of Francisco de Goya y Lucientes.
ACADEMIC DATA
1958-1964
High school "Decroly" (Madrid) 1965Senior high school
1966-1969
Higher studies in "Escuela Superior de Arquitectura de Madrid"
1969-1970
Graduated in Interior Architecture (official title) Graduated as Technician in books and documents restoration from Historic Spanish Patrimony.
1971-1974
Master art restorer of Works of Art (specialized in easel paintings). Commissioned and licensed to do the actual restoration of several paintings from "La Casa de las Conchas de Salamanca, Spain."
1975-1977
Diploma of artistic metallurgic from the "School of Applied Arts in Madrid."
PROFESSIONAL INFORMATION
1967-1969
Private Sector as collaborator and artistic advisor of the Publicity Enterprises CINE, DIS of the group PUBLIDIS.
1969-1970
National Spanish Institute of Statistics (Department of calculus).
1970-1971
Books and documents master restoration technician at the National Historic Archive (dependent of the Ministry of Culture) specialized in engravings, drawings, sketching, scrolls, parchments and sigil graphics.
1978-1985
Appointed Professor to the Artistic Metallurgic School of Applied Arts of Madrid. (Ministry of Culture).
1986-2000
Master restorer technician at the National Institute of Historic Patrimony adjoined to the Ministry of Culture, in the specialty of easel painting.
2001-2005
Multiple activities as lecturer, professor and master restorer for both the public and private sectors.
ACCOMPLISHED OFFICIAL WORKS

Participated as lead restorer in the restoration and cleaning of the works at "La Iglesia de El Espinar", Spain.

EXPO 91, Spain. Entrusted with the supervision and control of the state of all the works of art belonging to the Spanish Pavilion as well as those of the Independent Communities (daily reports), designated by the Ministry of Culture of the Spanish Institute of Historical Heritage. Also simultaneously given the responsibility of supervision and control of the works belonging and exposed at the Vatican's State Pavilions.

Officially sent to Quito, Ecuador as professor for teaching and forming restoration technicians.

Lectures and conferences in "Casa de la Cultura", Quito, Ecuador about pictorial techniques.

Main lecturer at the "Cuzco University of Peru" detailing the restoration process of an oil over canvas painting entitled "Los Padres de la Iglesia" (Church's Fathers) of the XVII century.

Conferencist at the Central Bank of Ecuador. Subject: Applied Restoration techniques. Several worldly renowned experts shared the podium. Officially sent by the Institute of Iberoamerican Cooperation and the Spanish Ministry of Culture.

Teaching of broadening studies of Art Restoration at Albarracin (City of Teruel, Spain) declared as Humanity's Patrimony, specially addressing recently received technicians. Conference and iRestoration and supervision of the works of painter Ortega Munoz at the Spanish Contemporary Art Museum.

Supervision of the presentation of the pictorial works of the "Filippo Juvara Exposition" at the Madrid Royal Palace.

Conferencist about the new restoration's technique of painting over paper foundation for the ICOM Congress in Tarragona, Spain.

Technical report on the conservation state of works in the National Museum of Ceramics in Valencia, Spain.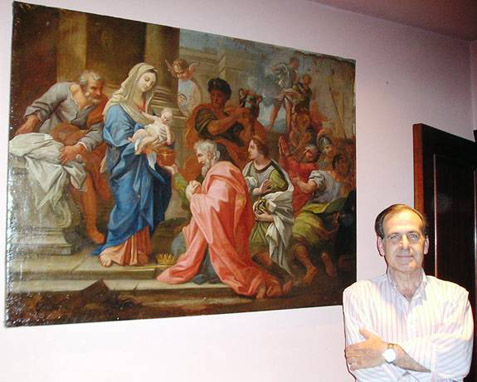 Prof.Antonio Perales in front of a restored Goya.

Technical report of the conservation state of a botanic work of the XVII, belonging to the Municipal Museum of Valencia, Spain.

Technical evaluations and reports about the "tables" of the "temple al huevo" (egg heating) technique, found in the Church of Herrera del Duque (Badajoz, Spain) whose author is Don Juan de Correa.

Intervention about the works of the Church (La Iglesia) and town's Museum, both under the sponsoring of the Spanish Institute of National Historical Patrimony.

Charged with technical reports and recommendations as well as the budgeting to undertake the restoration works at the "Catedral de Tudela", by commission of the (IPHE).

Supervision and control of the art works presented in the exposition titled "The Private Space" (El Espacio Privado) in the ancient Spanish Contemporary Art Museum.

In charge of the restoration of multiple art works exposed in the rooms of Central Bank's Hispanic Foundation during the "Recuperated Art Works Exposition".

Tecsculptures.

Commissioned with the restoration of the different graphic works of author Jasper Johns, by Museo del Prado.

Former member of the Ministry of Education Tribunal covering all the applications for every specialty in such Ministry.

Professor Perales keen eye at work in the pre-restoration stage
PATENTS AND COPYRIGHTS
The investigations, researches and discoveries of Goya's personal "imprints" of graphisms imbedded in his painting as well as the required methodology for authentification have been duly registered in The Registry of Intellectual Property of the Spanish Ministry of Education and Culture of Madrid, under the title: "The micro signatures that Goya imprints in his works." Dated April the 16th, 1996.And:
"Francisco de Goya and the SYMBOLISMS as a genial form of expression" February the 23rd. of 1998. Under the numbers 44.834 and 70.990

More recently, on December 28th, 2005, Professor Perales applied for and obtained Copyrights privileges in the United States Copyright Office , Certificate of Registration Nro. TXu1-267-601 under the description:
"SCIENTIFIC SYSTEM FOR AUTHENTICATION OF THE WORK OF FRANCISCO JOSE DE GOYA Y LUCIENTES"
and/or alternative title:
"System for the detection of micro signatures and other graphic symbols in the work of Francisco J. Goya".
In the last 12 years Professor Perales Martinez has restored several paintings of Francisco de Goya y Lucientes . He has certified and authenticated, in conjunction with Chemical Science Professor Enrique Parra Crego of famed Madrid "Largo" Laboratories by technical and scientific means (X Rays, chromatography, spectrometry, chemical analysis of pigments, light absorption, canvases strands composition, microscopic inspections, etc.) several inedited and previously unknown Goya's paintings. Recent discoveries have been the three Goya's paintings property of the "Escuela Tecnica Superior de Ingenieros de Caminos de Madrid".
A Goya's oleo titled "Portrait of Marquis of Santa Cruz" property of the Real Spanish Linguistic Academy was identified by Prof. Perales.
The long lost oleo referenced in two of Goya's personal letters to his dearest friend Martin Zapater as published in the Museo del Prado's book "Goya, Pintor Religioso", page 59, Note Number 30. Professor Perales considers this magnificent painting one of the most important discoveries of his professional life.
This long sought after oleo is also listed as
of "unknown whereabouts"
in the Angel Canellas Lopez diplomatario in page 166. A historical piece which, unlike most others, has specific origin references by Goya's own hand writing .
End.
Original U.S.P.T.O. Copyright Certificate. Click on image for details in Spanish language
What is happening with Goya?
The readers of "Fundetel" already have previous knowledge about the obscure landscape surrounding the splendorous work of Francisco de Goya y Lucientes. Our magazine, in rigorous investigative news had offered in its issue number 3 a great deal of the conclusions to which the investigative professor Antonio Perales Martinez had arrived to.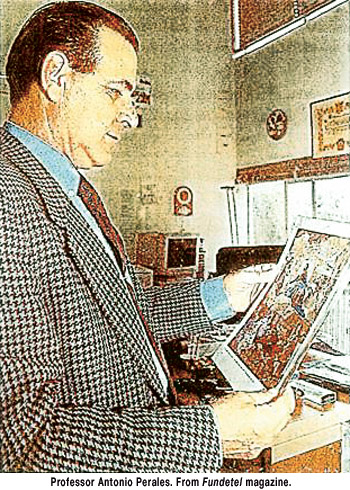 As a result of the most impressive and sophisticated identification technology (I+D+I) that had brought to the surface the mysteries of the technique utilized by the universal Aragonian master, there were left no room for any doubts about the hypothetical authorship of his paintings.

Professor Perales' methods are rigorously scientific, as infallible as the application of means of high technology can be (pigment's composition analyses, radiographies, reflectographies, etc.) once been put to the service of Art.

Goya, who was gifted genius with a prodigious craftsmanship, signed his paintings plus a whole range of his creations in the most unexpected places with his micro signatures and disguised graphics of the most varied assortment; his imprints can be found even in inconspicuously hidden places in the wooden supports and frames of his painting. (See photo.)
This "Goyesque magic" was discovered by Professor Perales Martinez after more than 33 years of intense work as main restorer of the "Institute for the National Patrimony" in Spain. What Professor Perales reveals is not a simple "coup d'oeil" or a "first sight impression" but, quite the contrary, the results of a meticulous analysis of concrete, verifiable signs of authenticity that are much more related to Chemistry and Physics than the artistic experience , real or imagined...of the most noted (perhaps.."notorious" ) of all the "experts".

The actual disparity of these two approaches resides in the recognition and validity of scientific methods against the "glance" or "visual impressions" , (the so controversial "eye technique") upon which all diagnostics are based upon, until now… It is unconscionable to accept that what "seems to be" for he or she, can be prevalent over the most exact and rigorous scientific physical tests.
Whimsical opinions or just guesses?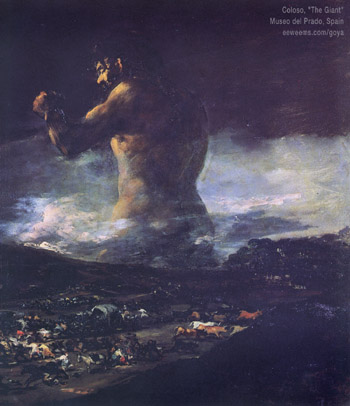 Now it came to happen that two of the most symbolic paintings of the work of Goya are being questioned just because somebody's subjective opinion. Such an outrageous statement creates doubts, authentic social alarm without anyone explaining how such a diagnostic has been reached or which have been the tests these works have been subjected to.

The answer is that it will take a few years to reach a final diagnostic when; in reality with the scientific technique we are referring to, 10 days would be enough. And to make things worse, Goya's own testament and last will has not been taken into account, as both these pieces appear in his general inventory drafted by him and also including all of his possessions at home when he died.
The rigorous procedures
According to several experts, those who support themselves in science and many others that don't, plus accredited historians and students of the subject who have no doubt whatsoever of Goya's authorship of these two paintings. Nor should they have any, either.

Since random extraordinary happenings in history, like wars or moving around the paintings for whichever other reason, copies have been made and they may have sometimes replaced the originals, but the method to verify their authenticity is as follows:

First. - Taking numerous macro photographies to locate and visualize signature or signatures that Goya incorporated over the pictorial veil in all his works.
Second.-Verify the existence of the symbolisms and graphisms that master Goya disguised in every of his creations and that become part of the pictorial reality of the work.
Third. - Perform the described pigment's composition analysis using samples taken from various different places of the painting (at least 5 of different colors) as well as a dating analysis of the canvas or media. These will demonstrate exactly the approximate date of the painting because all the samplings and comparisons of Goya's "palette" must coincide with the already catalogued and classified pigments components known to be used by Goya at that particular time. This is because Goya, according to the époque, used to alternate pigments.
Fourth.-Carry out the exhaustive radiological study by sections through which all the micro signatures and graphics that the artist, before he began the painting, lended to the foundation and primers of his creations will be detected.
Fifth.-It must also be taken into account that in the case that the wooden frames of the paintings are original, as they are supposed to be in these particular two cases, they will equally present these miniatures engraved signatures that could also be found in the decorative exterior frames.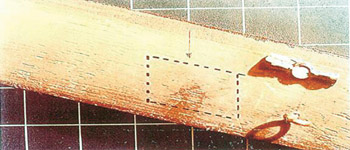 On the other hand, if someone affirms that the authorship of these paintings corresponds to any other person, whether they attribute this person with a full name or not…let him or her demonstrate why and prove it!
What could be the basis to proclaim, suppose, or in the best of cases spread any doubt saying that the author of this painting is Rosario Weiss, step-daughter of Francisco Goya? Rosario, at that time was only 13 THIRTEEN years old!
The Unknown
The common people, the ordinary citizen, whether a plain art admirer, a renowned connoisseur or not of Goya's works, collector or plain Museum visitor must be wondering…what's going on with Goya? What is REALLY happening with Goya? The answer is out there for all to see; the earth can no longer be "flat" just because some say so!
Is it a case of the most extreme jealousy from the part of the people involved, experts, art historians, appraisers, auctioneers or is it simply a matter or egos or perhaps it is just …business?
End of article.
Note: As a clear and present validation for the argument of the technical superiority over ANY "visual" apreciation, better known as "the eye technique" , a recent article apeared in Newsweek Magazine about the scientific-technological way of detecting forgeries by means of a O.C.R. (Optical Character Recognition) a computerized program that detects and catalogues the particular and unique hand "strokes" of the brushes from each specific artist, making it possible to "match" and compare in a data base.
Likewise, and following the obvious an inevitable modern trend, there is yet another computerized way of detecting forgeries and it is heralded by a private organization named VERITUS A.G.
Click here: http://www.veritus.org/degoya/index.php
More on these subjects in the following pages .
Goya's miniaturized hidden signatures,
a revolutionary discovery.
The work of expertising and cataloging masterpieces is one of the most important activities carried out by the auction companies, antique dealers and museums. The experts, not only risk their prestige and that of the museum or institution they represent, but also risk, not simply hundreds but thousands and even millions of Euros.

It is not at all the same to catalog a painting of an author of renowned prestige, than attribute it to his circle, or to mention a certain school or epoch. From that decision the price is going to substantially depend, since it implies the dating and authorship of the piece. "SUBASTAS" a specialized Spanish magazine has requested the opinion of the most important auction houses about this controversial topic, and the experts have spoken with absolute clarity. From their words we assume that, sometimes, there is more will than resources and that, even more, a regulation of those activities on the part of the Administration or pertinent authorities would be necessary, such as it is in France, the country that several specialists cite as a model."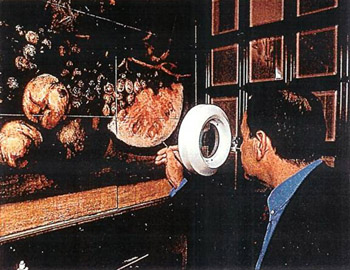 Professor Antonio Perales Martinez is one of the most recognized experts in the work of Goya, besides being a very renowned skilled master restorer, has worked in the National Historic Archive and also in Spain' National Institute for Historical Patrimony under the Ministry of Education and Culture.
Professor Perales Martinez accumulates more than 33 years of experience mostly related to Goya's work. He has participated in multiple national as well as internationals researches and studies for the discovery and authentication of previously unknown Goya's paintings."
Professor Perales has devoted a great part of his life to the analysis of the work of Goya, perfectly knowing the Spanish Old Master's technique, which has allowed for him to develop and copyright (No.44.834/No.70.990 of the Spanish Intellectual Property Registry) an amazing system that may revolutionize the cataloguing of paintings of this Spanish Old Master, based on the mini-signatures, and other peculiar and personalized identification markings found in Goya's paintings.
Goya's mini-signatures,
a revolutionary discovery
Authentic Goyas could be being auctioned as anonymous paintings, according to Professor Antonio Perales, a most skillful technician in masterpiece restoring who, after 33 years of work, has developed (and patented) an ultramodern theory and scientific method to irrefutably identify the work of this genial aragonés artist, Francisco de Goya y Lucientes. The secret lies in the miniature-signatures, minuscule identity signals that Francisco de Goya cleverly and inconspicuously spread through the painting.
TECHNICAL AND SCIENTIFIC ANALYSES
According to Professor Perales, thanks to the meticulous study that he following describes, he as been able to positively identify as authentic Goya's paintings that were NOT attributed to the Spanish Old Master de Fuendetodos, or wrongly attributed to other painters.
Pigment analysis: A thorough chemical analysis (chromatography) of the pigments composition and make up. A renowned Spanish Chemical Laboratory (Laboratorio para el Analisis, Restauracion y Conservacion de Obras de Arte) highly specialized in this particular field of investigation and identification of works of art is used. This allows identifying if the pigments are corresponding and similar in chemical compositions to those used by Goya.
Reflectography: The use of infrared light analysis permits observing those hidden mini signatures shapes under the pictorial veil that could not be discerned by the naked eye, as well as any other existing drawing or any signs of repentance, (pentimenti) .
Radiography (X Rays): Determines the creative form of execution of the artist, the conservation state of the work and is a complement of the data obtained by the precedent analyses of the pigments. In Goya's case this technique arises the presence of his micro signatures which do appear in the X rays, given that Goya used to imbed then in the foundation of his paintings using a metallic charged ink.(More on this subject further on)
Photography: General high quality color photo prints, detailed sections of the painting, using color filters, magnifying lenses, macros, approximation ring, etc.
Intensive visual analysis: Using high powered magnifying lenses and under intense light conditions, an in-depth visual observation for small rubrics, graphisms* (*more in following articles) or mini signatures hidden in inconspicuous places all throughout the painting?s surface.
Data compilation: If all of the precedent tests, plus all the classical tests and appreciation studies are positive, we can then practically affirm, with no margin of error, the authenticity of a work by the hand of Francisco de Goya.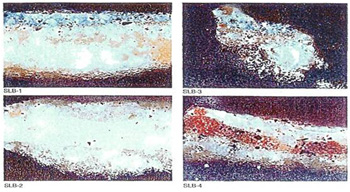 "In the work of Goya there is always a sign, a stroke, a symbol, a diminutive rubric, with which the author stamps his authorship."

Disbelievers have always existed, who have not wanted to recognize these markings arising from light and color, the same way that they wouldn't want to recognize the small signatures and writings that Goya included in all his works. They can be observed by detailed analysis with a magnifying lens, going over it centimeter by centimeter. Goya painted works that even to date are considered done by Velázquez, Vicente López, Rubens, Rembrandt, Rafael the one from Verona, etc.

The confusion exists because a painting that has been misattributed to another author carries its bad attribution and no specialist wants to go back to the already studied and catalogued, because he/she does not want to rectify the opinion of the first expert. But this "group" technique, according to Professor Antonio Perales, is neither good for the universal culture or for that of our own country (Spain), nor for anyone that considers himself/herself honest, because if a work of art is misattributed, one must be brave and tell the whole truth and therefore be given due credit.

There is nothing wrong about acknowledging a mistake, more so, considering that at that time there were no technological means like the ones we have today, to study the works of art. It has always been sensed that, according to Professor Antonio Perales, the creations of Goya have been subjected to manipulation.

For example, the Metropolitan Museum of Art, in some troubled acquisitions of the work of Goya, and after constant study and investigation that were carried out in that institution, in 1995 reached the conclusion that only 7 of the 17 oil paintings of the collection met the standards criteria of authorship done by the experts."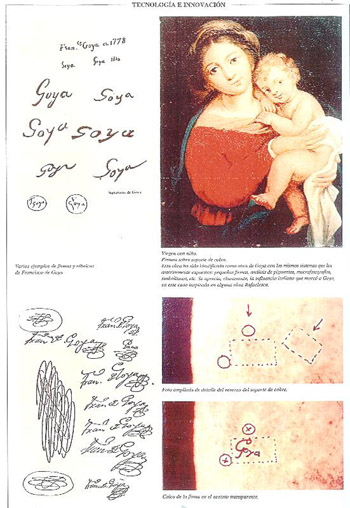 The changes in criteria among the experts and "connoisseurs" of the work of Goya have been constant and as a consequence of this mistake many of the artist's youth works have not been attributed as such and, to this day, many still go as "anonymous".
Goya was indeed very prolific worker, of an extraordinary fast execution to whom a couple of sessions would often be sufficient for portraits painting. Therefore, the numerous works of his youth as well as those of his later years should be justly attributed to him without ambiguities, mistakes and it should be done unequivocally and in a verifiable, repeatable scientific manner by anyone properly qualified as to leave no room for any doubt.
The restoring of numerous works of Goya has lead this specialist to clear a very intricate path, sometimes intimidated by the magnitude of the work of this genius, touching his linen cloth canvases, and soaking himself in his art. "I have discovered", declares Professor Antonio Perales to Subastas ," what I would have never expected and that gave me the greatest surprise of my life and an immense joy: the mini signatures of Goya!
The specific stroke of Goya, a shadow, a silhouette or a light lead the expert to interpret what Goya wanted to transmit by his unfinished zones, his pasting, his hidden messages, transparencies, poetic visions, tormented or romantic attitudes, sometimes depressive, simply detectable by its chromatic variations, or moodsgetting to discover how much is created by desire or by devotion or when he does it due to economic necessity. The works of his youth or his maturity have traces that define them; something new is always defined, nothing repeats itself.

"Examining my first Goya I spent hours and hours -says Professor Perales-, studying the painting in all of its facets. The study of lights and shadows did not correspond to what is normally studied in the art schools. Light appears in first plane, while the zone of half-shadows and shadows remains in a second plane. It is in that zone of shadows where a site of light attracts the attention powerfully; so I started to turn the painting in all directions, until I got to decipher what that illuminated zone wanted to convey to us?.
Two centuries of silence
The painter utilizes symbolic values that speak to us through colors. There appear semi-hidden signatures, diminutive rubrics, zoological symbolisms, cryptic shapes repeated throughout the entire surface of the canvas, or any other media; engraving, drawing, fresco, lithography, tin, copper, crystal, wood, marble, etc.

This originality , all masterfully disguised in the main pictorial composition, went unnoticed at the time of the artist and only Moratín knew the secrets and mysteries of the Goyesque fantasy. Goya remained silent and so did Moratín, keeping a silence of complicity by reason of friendship, not revealing the path that would expose the rigorous judgments, reserved and very controversial Goya's sublliminal opinions expressed by him so inconspicuously.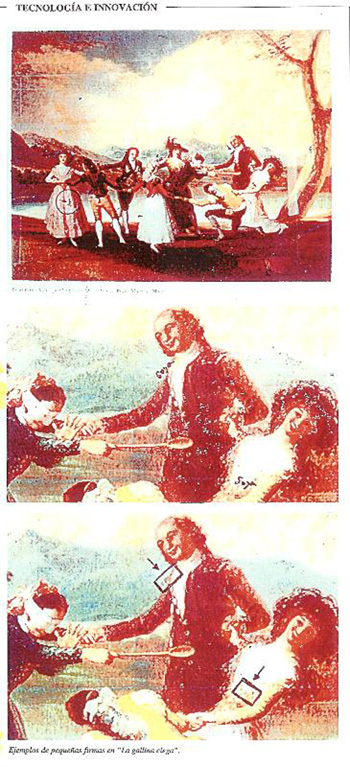 Personal and many times critical impressions (especially in "Los Caprichos") that the artist made of the most distinguished personalities of his time, like the Queen or Godoy, or so many other "aristocratically respectful" characters of his era were cryptically incorporated into the piece...

No wonder if one considers the potential consequences of any vocal or evident "negative opinion", if ever known by his consigners, not to mention it all happened in the times of the Santa Inquisition!"
One of the growing numbers of authors and scholars who agree with the findings about Goya?s unique self authenticating technique proposed by Antonio Perales is Agustín de la Herrán, who publishes several books between 1956 and 1962 about the symbolism of Goya. Likewise, similar texts have been published in "The Spanish Present Time" (1970) where an article was published in which other Goya connoisseurs speak about the micro signatures and other symbolisms.
Moreover, these theories have already been published in the media by "The Herald of Aragón" and channel Antena 3 of the Spanish T.V. In Italy, there is another Goya expert, Paolo Erasmo Mangiante, who openly coincides with the same findings.
If we accept this diminutive-signature technique as well as the detection of graphisms to identify the works of Goya, three inedited paintings of this author (one of Carlos IV, another of Agustín de Bentancourt, and a third one of Juan Subercase) might be hung at the School of Engineers of Camino somewhere in Spain among , perhaps, so many others somewhere else in the World.
We are living in the XXI Century, called "The Technology Century" where computers, digital T.V., cellular phones, and a myriad of advanced technical devices allow us to perform incredible tasks, and yet, quite incredibly we are still relying on personal, biased and influenced unobjectif opinions for recognizing a mankind's art treasure of or for simply discard it! Just like that!
Are we going to continue honoring the infamous: "Believe me, not your lying eyes"
Or, as these the detractors may differently say:"Sophisticated modern technology is wrong!" Therefore, my "eye technique" is fool proof and infallible!
End.
NOTE:
The above is part of a series of articles published by the Spanish Magazine SUBASTAS. Reprinted by permission.